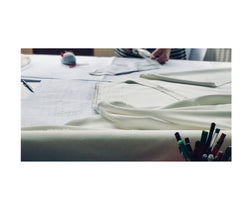 Fabric
Our 'Create Choice, Create Change' debut collection is made in a beautiful heavy stretch crepe sourced from an amazing family mill in Portugal. The mill has been passed down through generations and is fully committed to sustainability and making a positive difference in the community. From complete traceability of raw materials, to its own solar power plant to supporting students and the next generation of entrepreneurs. 
Each piece in the collection is made from fabric from 'end-of-the roll' pieces to ensure we minimise any fabric waste. Each of these rolls have a limited number of metres, which means we are able to create limited edition colours and pieces. 
For pieces commissioned outside of our collection, we only use fabrics from suppliers we know are ethically made, dead-stock fabrics, organic materials where applicable e.g. cotton, we never use products that are animal derived in particular we do not work with leather, fur, wool or silk.
All fabric is cut to minimise waste as much as possible, we recycle or up-cycle all our offcuts.