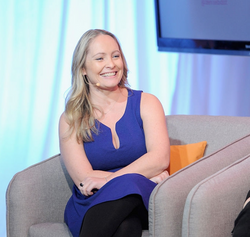 Jenny McQuaile
Tell us a bit about yourself
I'm a filmmaker from Ireland originally and living in Connecticut. I started my career as a journalist in Ireland about 18 years ago and moved to the US to pursue documentary filmmaking 8 years ago. I lived in NYC until November and then moved out of the city to Connecticut. My last film is called Straight/Curve:Redefining Body Image about the pioneering people fighting against society's dangerous and unrealistic standards of beauty. It premiered in the US in 2017 and was released in the U.K. last year. It features lots of famous faces like Iskra Lawrence, Tim Gunn and Tess Holliday and you can find it on iTunes!

What makes you smile?
My puppy makes me smile everyday and right now I'm smiling because my husband is doing the dishes. 
What can we do to support others during this time?
This is a really challenging time for many people. Some people are loving the isolation and others are struggling. It's particularly hard for people who are alone right now and are not quarantining with anybody. I've set up weekly zoom chats with my close girlfriends in NYC so we can all check in on each other. I have text chains with my cousins in Ireland and the U.K., I have WhatsApp threads with my school friends from back in Ireland and I am in touch with my parents and my in laws more than ever. In a lot of ways I'm finding the pandemic is bringing me closer to people I may not speak to as often, which is a great upside. 

What have you been doing? (Any tips/ advice for isolation)
I have been getting outside as much as possible and it's been a lifesaver. I am so grateful everyday that we left the city and now have a garden that I can read in and play with my puppy. I've learned to crochet, which is super soothing, I've started baking, like everyone else! And I really cherish and look forward to small things like a great meal, a good movie and sunshine. The main thing getting me through this time is reminding myself everyday of things to be grateful for. My situation could be a lot worse and the same probably goes for a lot of people, remember this and it will help put things into perspective. 
Who is your role model and why?
Governor Cuomo of New York is inspiring to me during this time. His daily briefings are like medicine. 

Shoutout to someone who has done something kind:
My mother in law JoAnnne sent me my first learn to crochet kit and now I'm addicted! 

Shoutout to someone to let them know you are thinking of them:
I think about my parents a lot these days and the inability to just hop on a plane to Ireland makes the distance between us feel even bigger.