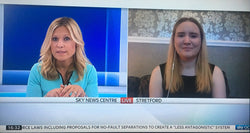 Organ Donation Campaign
Laura has been on the organ transplant list since August 2018. To raise awareness and to encourage more people to sign up to become organ donors, Laura was part of the NHS Organ Donation campaign in September 2018 to share her story.
Laura gained national press both in print and online from this and was interviewed on Sky News about organ donation by the wonderful Samantha Washington.
-