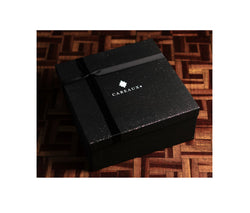 Packaging
Your first Careaux piece will be packaged by hand and delivered in our limited edition Careaux boxes. The box is made in the UK from recycled material and is also recyclable.
The Careaux box is designed to be treasured for life, to store memories you have created in your Careaux piece. In order to be truly sustainable, we need to think about what happens to your Careaux piece at the end of its journey. We would love for your Careaux dress to be passed down through generations whether to your friend or your family along with your memory box. Or you can return your Careaux dress to us, where if applicable we will either donate to charities such as Smart Works or we will reuse and up-cycle your Careaux piece.  

All other Careaux pieces after your first will be delivered in a box that is recyclable, compostable and biodegradable from a UK company that supports and funds 100 trees being planted globally every week.  
We use delivery partners who share our passion to sustainability including supporting the United Nations Development Goals through carbon neutral delivery.