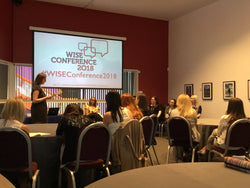 WISE Conference 2018
In 2018, Rachel attended and spoke at the WISE conference which was held at The Lowry. The theme of the conference was 'innovation', which was definitely fitting. The WISE conferences bring together people to celebrate, network, learn and support through speakers, presentations and networking. 
WISE is a CIC that offers support to organisations to improve gender balance.